Woot, woot!! I have 54 followers on this beachy blog!! You guys are amazing, and I can't thank you enough for reading my random ramblings. :o)
To celebrate this joyous occasion, my wife has offered to help me out with my first giveaway. I don't have a TPT or a Teacher's Notebook store (yet!), so I thought I'd do something a little non-traditional. My wife is an
Independent Director
with
The Pampered Chef
and is giving away a $15 gift certificate to spend on anything you want! Yeah, it's not totally "school-related," but at the same time cooking lends itself well to learning to follow directions, measurement, science... all kinds of stuff!
So, how do you enter this giveaway? You must...
Be a Beach Brains Blog follower! This is to show you all my appreciation after all, so you have to be a follower!
Post a comment about how you can integrate cooking into your lessons. I'm not looking for an all-out lesson plan, but just activity ideas and ways you've incorporated cooking into your lessons.
You have until 11:59pm CST on Thursday to enter! I'd like to announce the winner some time this weekend! Good luck!!!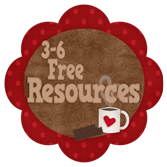 Also, if you guys haven't visited yet, you need to boogie on over to Misty's, my new bloggy friend, blog:
3-6 Free Resources
. It's chock full of excellent resources to make your life easier, and we all could use that, couldn't we? You can also link up your blog Plus, it's coffee-themed which is right up my alley. My wife will tell you... I'm a little obsessed with coffee. ;o)
Ok, I'm logging off for the night. Tomorrow, my Beach Brains are making 3-D solids with marshmallows and toothpicks to kick off our geometry unit. Pics to follow! Have a good one!