My friends at the
3-6 Free Resources
have started a great linky party focusing on great instructional websites. You can grab their badge and participate in the fun!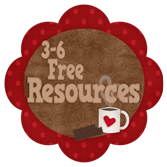 Check out 3-6 Free Resources!!

I love having my kids blog on this website. It's safe, easy, and KidBlog accounts are completely free. I'm especially excited to use KidBlogs in the fall because MANY of my bloggy friends also use this. I can't wait to get a collaborative project started!!
This is relatively new to me as one of my new co-workers recently introduced me to this site. Students can go on and play games that reinforce classroom learning. As students complete the activities and games, they earn points for prizes you set up on your class's Scootpad page. It's going to be fun exploring this site with my students in the fall!
I love ClassDojo as a part of my classroom management. I've blogged on it before, so you can check out my
post here
.
FreeRice is a great way to help your students boost their vocabulary. Students are given a word and they guess the meaning. If they get it right, grains of rice are donated to families who do not have enough food to eat. You can also play using math facts, geography, and other subjects!
This site allows students to create word clouds to provide a fun and unique way to practice spelling, vocabulary, or even a way to discuss theme or characterization in reading.
There so many more that I could write about, but I'll go ahead and end it here. I want to go read and see what others have put up. :) Have a wonderful Sunday!